Salto del Indio at Anticura
Well, I do have a serious problem with the bike: the wheel is busted. It happened the evening before, when I pulled off the road into a farm's path to ask for directions. I had skidded and something had popped. I only realized when I had pulled into the campsite, that the wheel was wobbly and I knew I would have to take a closer look the next morning. Now, in the daylight, I see a spoke is broken and the rim is pulled into a bulge. No big deal, right? I have tools and spare spokes and will fix it. Wrong! the spoke is on the rear wheel, on the right side where the cogs are, and the cogs will have to be removed. For that, you need a special tool and I don't have that. Also, I have never before balanced a wheel, and I can imagine that this might be tricky.
So, I need to work according to plan #2: I remove the wheel and with it, I hitchhike back to Entre Lagos, catch a bus to Osorno, find a bike repair shop, leave the wheel with them to pick it up at 4 pm (in the mean time I visit the local museum), catch a bus back to Entre Lagos and hitchhike again to the campground. I am back at 7:30 pm, proudly carrying the wheel with me, all repaired and true balanced. Think of the uncertainty of a round trip of 180 km by means not familiar to your average North American, into a place that I was barely familiar with, looking for a specialty shop in a language that I hardly knew and it worked! It did not take any magical skills on my part nor particularly good luck, and rather illustrates a key point of travel:
there is no need to plan every detail
no need to prepare for the many eventualities
so, stop worrying about something nasty happening
The point is that you can work it out, in a place where prices are reasonable and people are friendly. There are actually benefits from such an experience, such as:
I observed a protest action against Pinochet (See my page on Law and Order)
I saw the displays in the museum of Osorno. The displays are well done, and I learned some important and some not so important facts of the world. Here's a partial list:
I realized that there were two (and not one) O'Higgins that made their mark on Chile's history. The father, A. O'Higgins, is the one that declared the republic of Osorno in 1796. Here are two quotes from the Canadian Encyclopedia:

O'Higgins, Ambrosio(ohhihg´ihnz, Span. ämbroh´syoh ohee´geens) 1720?–1801, Spanish colonial administrator, b. Ballinary, Co. Sligo, Ireland. Educated at Cádiz, Spain, under the care of his uncle, who was a Jesuit, he went to South America as a trader. After an adventurous career he so distinguished himself in campaigns against the Araucanians that he was appointed (1789) governor of Chile. He was later made marquis of Osorno and served capably as viceroy (1796–1801) of Peru. Bernardo O'Higgins was his son.
From :The Canadian Encyclopedia Plus Copyright © 1996 by McClelland & Stewart Inc.
The Columbia Encyclopedia, Fifth Edition Copyright © 1994, 1995 Columbia University Press

Note that he declared a republic, whereas the home government was monarchy. These must have been turbulent times! The statues of O'Higgins that you see in many city squares in Chile are more likely to represent the son, or El Liberador, as he is sometimes called:

O'Higgins, Bernardo(behrnär´ðoh ohee´geens) 1778–1842, South American revolutionary and ruler (1817–23) of Chile; illegitimate son of Ambrosio O'Higgins. He was chosen in 1813 to replace José Miguel Carrera as revolutionary leader. After the loss at Rancagua, O'Higgins fled with the remnant of his army to Argentina, where he joined forces with San Martín. Returning to Chile in 1817, San Martín and O'Higgins defeated the Spaniards at Chacabuco. O'Higgins was named supreme director of Chile, whose independence he proclaimed on Feb. 12, 1818. His financial, political, and social reforms aroused much opposition, and in 1823 he was deposed and exiled to Peru, where he remained until his death.
From : The Canadian Encyclopedia Plus Copyright © 1996 by McClelland & Stewart Inc.
The Columbia Encyclopedia, Fifth Edition Copyright © 1994, 1995 Columbia University Press
An additional observation for the serious traveler: learn the country's history. If nothing else, it will help you to remember those strange street names everywhere, such as: Diego de Almagro, Pedro de Valdivia, Juan Martínez de Rozas, Rancagua, San Martín, Maipú, O'Higgins, Cochrane, Diego Portales and Bulnes
OK, back to my trip. I am camped in Anticura, at the foot of Volcano Puyehue, located in the lush valley of Rio Gol Gol. Anticura is part of a National Park, but seems to have a somewhat tentative status: As after two days no one has bothered to check the occupancy of my campsite, I decide to go to the office and register. Also, most of the buildings on the park grounds (cabins and restaurant) have been taken over by Ingecol, a company doing highway construction. This is a blessing in disguise: here I have the best and cheapest meals on the whole trip. The crew is friendly and they tolerate well this older chap travelling by, of all things, a bicicleta...
The next day, I decide to walk up to the volcano. I expect to only reach the refugio (hut/shelter) and return the same day to my base camp in the valley. Travelling with a bike, I cannot easily hike into the mountains for an overnight stay as none of my packs is large enough to hold all my camping gear.



Ulmo Flowers (from "Arboles nativos de Chile", 1997 by Marisa Cúneo)

So, I set out at 9:30 am, walking along the highway from Anticura back to El Caulle, a farm beside the highway. There's a gate and I go through to follow the farm track for about 2 km. The path passes several farms and then leads to a large meadow with Ulmo trees, stately giants that are covered in white flowers; their fragrance is strong and can be smelled from far away. It's beautiful. I pass a herd of cows, and then enter a dense forest whose ground is covered with bamboo.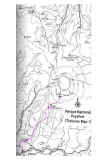 Map of the trail (purple) from Anticura to the Volcano Puyehue
(Source: Lonely Planet Guide to Trekking in Patagonia).


Volcan Puyehue, looking north from the road that leads to Argentina

ERUPTIVE HISTORY
(From http://www.geo.mtu.edu/~boris/PUYEHUE.html)
Two significant eruptions occurred during the 20th century, in 1921-22 and 1960. In the earlier event, initial activity was violently explosive and was followed by the extrusion of large volumes of andesitic lava. The 1960 eruption followed a magnitude 8.9 earthquake within three days (that is on 24 May 1960), and began with explosive activity from numerous craters followed by lava extrusion. Activity continued at diminishing rates until late June 1960.



Road cut near Puyehue. It shows the layering of topsoil, then alternate bands of pumice and ash, then some red ash or slag (if you know the proper name, please write me) and underneath old topsoil.

Volcanic rocks from Puyehue: three pieces of pumice (top left corner), a piece of slag (to the right), a small piece of volcanic glass (the right-most rock), three more pieces of slag (across the bottom), and my Swiss army knife, for comparison of size
The gradient gets steeper and the worn path exposes the slope's history. Underneath a thin layer of humus is a foot or so of pumice, put down by the most recent eruption. A few days ago, cows were herded down this path and trampled the path into a mess, so that I slide backwards with each step. Later, coming down the same path, the loose pumice provides for hilarious "skiing" and a quick descent. As I rest at a creek, four hikers come down the path and I know two of them: Ken and Alison Clarke from Invergordon, Scotland. I had met them on the ferry and then again in Puerto Montt a few days later. We are eager to swap stories about what happened to each of us in the mean time. They are on the way back from a three-day hike beyond the volcano and advise me that I have set my sights too low: I should go further than the refugio and either walk for an hour or so towards the hot baths to get a view of the volcanic plateau . I could even try to ascend the volcano itself.
I continue and reach the refugio after a total of 3 hours. The refugio is a hut with bunk beds and a wood-burning stove. This is an unfortunate combination, as some lazy folks have used most of the boards that cover the bed frame for firewood and only two beds are usable. I leave and walk the 150 m beyond the hut and locate the spring to refill my water bottle. The ground with its layers of pumice is permeable and water will not stay on top; water is not as easy to find as one would think. Fortunately, Ken had told me where it was (walk up the dry stream bed and take the left branch where it forks: after about 15 m there is a bit of a gully and there,in a hollow, water collects). As I have lunch, I survey the hills and mountains around me: it's so beautiful and I could stay here for hours. But I want to get further and I decide to go for the volcano. If I should not make it and should need to turn back, I still will be able to survey the plateau.
Finding the way up the volcano is easy because one can see the summit and the bare slopes leading up to it. Walking on it is more difficult because the material (pumice, slag and volcanic glass) keeps sliding as one steps on it. It's amazing how vegetation is starting, just a plant here and there, but since each plant collects soil that is carried by the wind, it soon becomes the centre of an island of vegetation. There are footsteps, probably Ken and Alison, and at some places there have been rocks piled into small cairns. I have to cross some steeply cut gullies and eventually I walk up a snow field. I can see the summit and think I'll make it to the top, but will be disappointed. As I come over what I thought would be the summit, I realize that there is another rise further on. It's 3 :20 pm now and have set a 3:30 pm hard stop for myself. A weather system is approaching, the haze over the valley is starting to collect into small clouds. I must leave the area above the tree line before the clouds obscure the path, and I must be down before it gets dark. Also, I am not dressed for weather above the tree line, nor did I have experience enough to gage the time it will take to return: walking downhill is faster than going uphill. I figure it might take at least another 20 minutes to reach the top and thus must turn back. I mark where I stand with an X on the map, and look around:

| | |
| --- | --- |
| Looking south and a bit east. Volcan Tronador is the big snow-covered mountain on the horizon. | |
| Looking south and a bit west. In the centre is V. Osorno, and further left, but closer, is V. Puntiagudo. To the left and barely visible on the horizon is V. Calbuco. In the foreground, just to the right of the centre, is an old mini caldera, and at the right edge, about 1/4 up the edge from the bottom, is the forest that hides the refugio. | |
| View to the west, a bit south. This is Lago Puyehue. | |
| Looking south-east, along the flank of the volcano. The snow in the hollow is covered in places by wind-blown dust and pumice, and you can see the crevices indicating it really is a mini glacier. If you can magnify the picture you will see over the snowy ridge the inner edge of the large central caldera. Compare with the map. | |
| Looking north. In the centre, a huge lava flow has collected, with the three feeding flows coming from the back and right. | |
I take pictures until the film is finished and then begin the descent, sliding and skiing downwards. At the spring, I fill up the bottle again and push on. Later on, a lone hiker comes up the path, expressing this is the most tiring ascent he's ever done. We blame it on the cows.... I have no problems reaching the valley before the light fades. A bit of a surprise awaits me: at the El Caulle, I am stopped by the farmer and asked to pay a fee for passing through his property. I find out later that it's legitimate, but he is not very tactful in collecting and tends to affront people. So it's a headache for him. It would help if he charged a bit less (I think it was about US$10) and posted something that clarifies the charge.
At 7 pm, I am at the tent and have dinner with Ken and Alison. We have a good talk, but the next morning they will leave for Osorno and then take a bus to the north of Chile. I will miss their company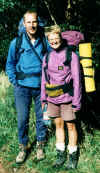 The next morning, I see them off:; it's hilarious how loaded-up they are, just two backpacks with legs...
I do laundry, discover that the water from the taps has lots of sand and gravel, and I am too disillusioned with this park's administration to report it. Walking is not easy for me today: yesterday's hike up and especially down the volcano has stressed muscles that did not get exercise so far on this trip and my legs are so very sore. I scout out the Salto del Indio, the waterfall of the Gol Gol River over a basalt ledge, and wonder at the strange shapes of the rocks there. When I rummage through the washed-up sticks and leaves alongside the shore, I am surprised to find many pebbles pumice. I have a suspicion and fling a few stones into the river Yes, they do float, and this is why these pebbles washed up with all the other flotsam. Later, some kayakers arrive and carry the boats around the falls to continue the paddle downstream. I walk over to another waterfall and spend a quiet time there as well, just absorbing the beauty of the spot. On the way back, I watch parrots fly into a Notro tree and eat its seeds.
Austral Parakeet or Cachaña (from Birds of Argentina & Uruguay. An excellent book, similar to the Peterson Guide, and it's in English)
Continuation of the Loop: [ Puyehue to Bariloche ]
Back to Trip Overview
Back to Erhard's Home page