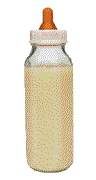 How To Deal With Your Crying Baby
by Milky

What good is a crying baby? Nobody likes them. They're noisy, obnoxious and foul. However, sometimes a skilled parent can salvage such a tot. Here are some tips from the pros:
Maybe the baby is just crying because it wants you to remove its legs?
A baby who has been working in the fields all day is going to be too tired to cry.
Distract the crying baby with ham.
Trade the baby in for a better one while it's sleeping.
Replace the crying head with a new Happy Head (tm).
Sound cannot exist in a vaccuum.
Electroshock therapy (hey, tough love works).
Make fun of the baby's crying; shame it into stopping.
Put it in suspended animation until crying can be cured.
Act really nervous - pretend crying is illegal.
It's hard to cry underwater.